Whiplash
In most scenarios in which the skull experiences a large , it will soon after accelerate in the other direction (if it did not, then it would never stop moving). For example, if the skull impacts a hard surface, but neither the skull and the surface are deformed beyond their , then they will behave elastically and the skull will "bounce" back. This type of collision is known as an (more on these in the next unit). When the initial collision stopped the skull, the inertia of the brain led to an impact on the front of the brain. Now as the brain and skull move backward the head moves back, the spine and neck muscles will apply forces that stop its backward motion. tells us that the spine and neck will feel those same forces back from the head, possibly inducing a neck injury known as whiplash.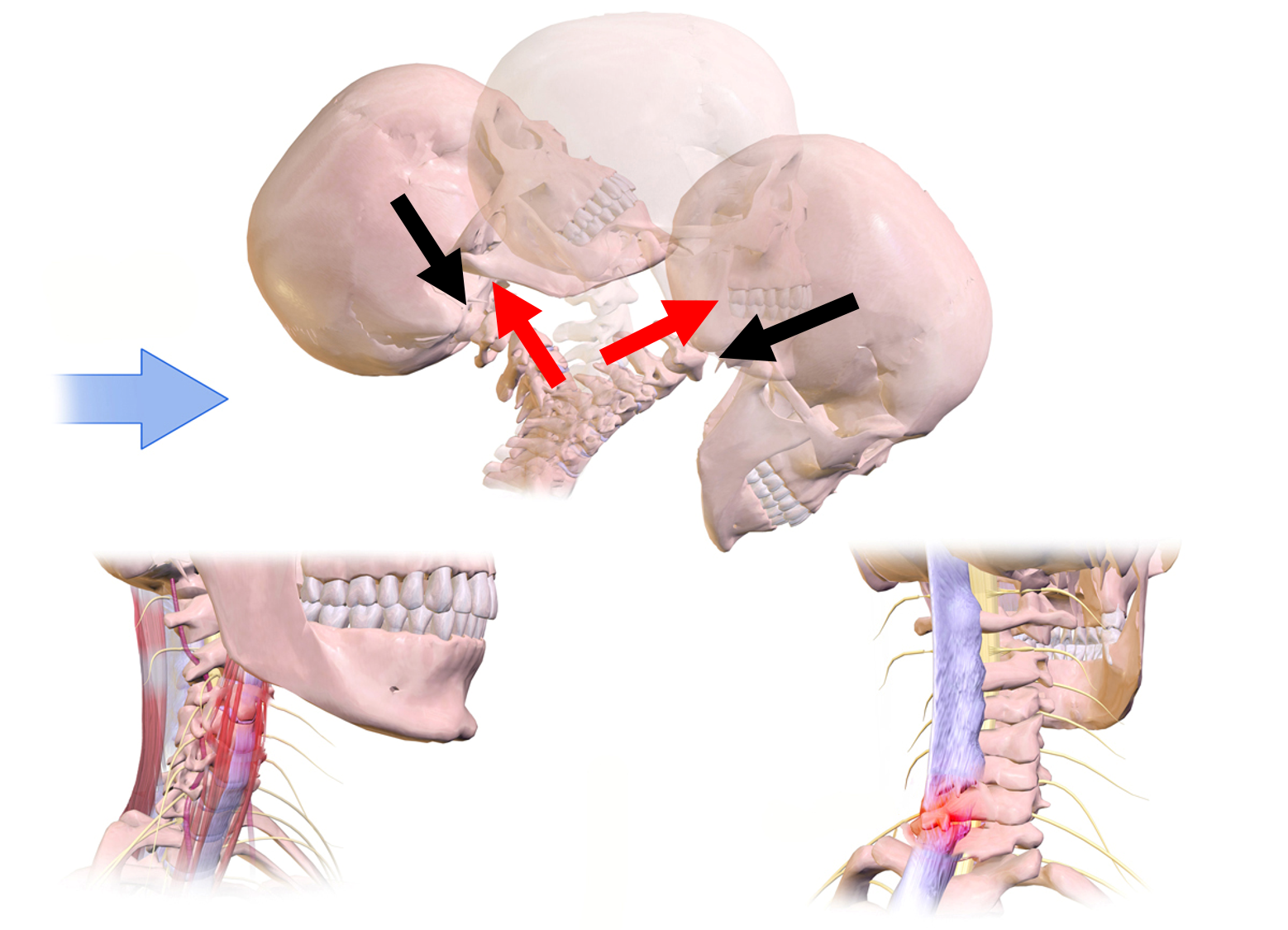 Coup-Contrecoup
After the bounce, as the neck forces the skull to slow down on the way backward, the inertia of the brain may lead to a second impact on the back of the brain, as illustrated in the following image.
Aside from an additional brain tissue injury, the combined swelling of the two opposed injuries will put much more pressure on the brain, increasing the likelihood of permanent injury. This type of injury is known as a Coup Countrecoup , or translated from French by Google Translate, blow, counter blow.
---
the change in velocity per unit time, the slope of a velocity vs. time graph
the maximum stress that can be applied to a material before it leaves the linear region
collision in which no permanent deformation occurs, and kinetic energy is conserved
for every force applied by an object on a second object, a force equal in size, but opposite in direction, will be applied to the first object by the second object