Outcome 1
1) A person with a weight of 715 N  hangs from a climbing rope 9.2 mm in diameter.
a) What is the of the rope in m2?
b) What is the applied to the rope?
2) A particular 60 m climbing rope stretches by 0.15 m when a 715 N person hangs from it.
a) What is the in the rope?
b) What is the strain in the rope as a percentage?
3) Label the following features in the stress-strain curve of a hypothetical material seen below:
Toe region
Elastic region
Yield point
Plastic Region
Ultimate Strength
Rupture Point
Failure Region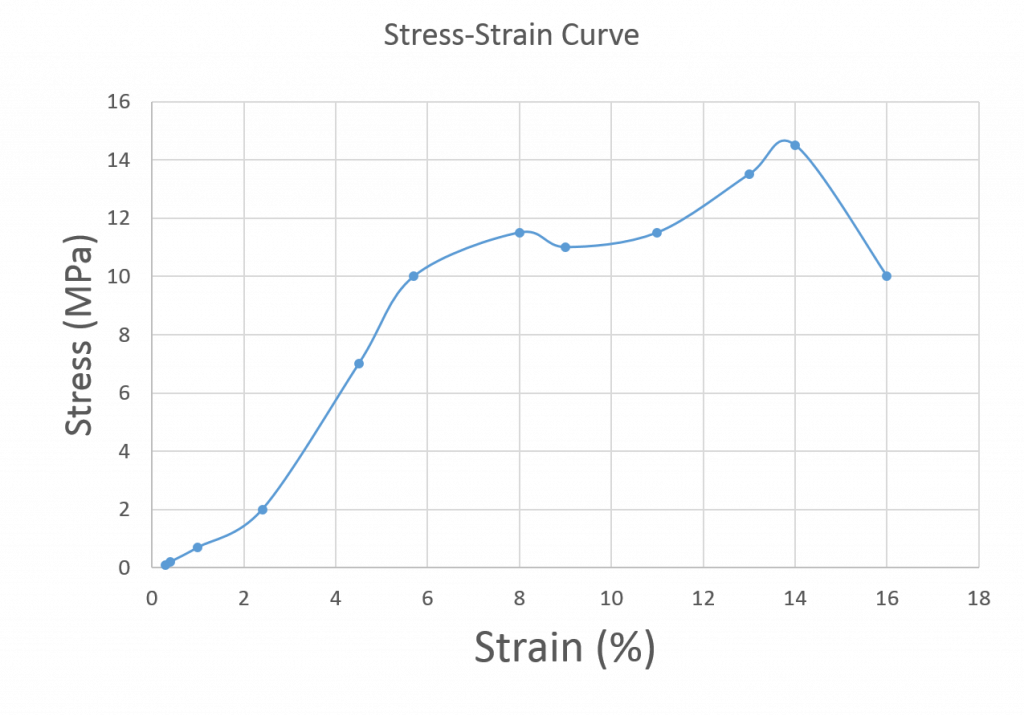 Outcome 2
4) Use the data in the previous graph to determine the of the hypothetical material. Be sure to convert the strain from  % stretch back to fractional stretch before doing your calculations.
Outcome 3
5) Answer the following questions regarding the material used to create the created the stress-strain graph above.
a) How much force could be applied to a 2 m x 2 m x 10 m long block of this material before reaching the ?
b) When operating in the , how much additional stress would be required to cause an additional  strain of 0.01?
c) What force would cause that amount of stress you found in part b on the 2 m x 2 m block?
d) What actual length would the 10 m long material stretch when put under the strain of 0.01?
e) What is the effective of this 2 m x 2 m x 10 m long block of this material?
The cross-sectional area is the area of a two-dimensional shape that is obtained when a three-dimensional object - such as a cylinder - is sliced perpendicular to some specified axis at a point. For example, the cross-section of a cylinder - when sliced parallel to its base - is a circle
a physical quantity that expresses the internal forces that neighboring particles of material exert on each other
the measure of the relative deformation of the material
measures of resistance to being deformed elastically under applied stress, defined as the slope of the stress vs. strain curve in the elastic region
the maximum stress a material can withstand
the range of values for stress and strain values over which a material returns to its original shape after deformation
measure of the stiffness of a spring, defined as the slope of the force vs. displacement curve for a spring