Proteins are one of the most abundant organic molecules in living systems and have the most diverse range of functions of all macromolecules. Proteins may be structural, regulatory, contractile, or protective; they may serve in transport, storage, or membranes; or they may be toxins or enzymes. Each cell in a living system may contain thousands of different proteins, each with a unique function. Their structures, like their functions, vary greatly. They are all, however, polymers of amino acids, arranged in a linear sequence.
You may have noticed that "source of energy" was not listed among the function of proteins. This is because proteins in our diet are typically broken back down into individual amino acids that our cells then assemble into our own proteins. Humans are actually unable to build some amino acids inside our own cells – we require them in our diet (these are the so-called "essential" amino acids). Our cells can digest proteins to release energy, but will usually only do so when carbohydrates or lipids are not available.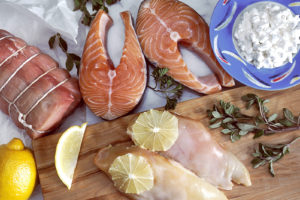 The functions of proteins are very diverse because they are made up of are 20 different chemically distinct amino acids that form long chains, and the amino acids can be in any order. The function of the protein is dependent on the protein's shape. The shape of a protein is determined by the order of the amino acids. Proteins are often hundreds of amino acids long and they can have very complex shapes because there are so many different possible orders for the 20 amino acids!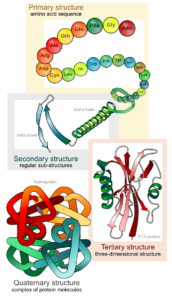 The unique shape for every protein is ultimately determined by the gene that encodes the protein. Any change in the gene sequence may lead to a different amino acid being added to the polypeptide chain, causing a change in protein structure and function. Individuals who are affected by sickle cell anemia can have a variety of serious health problems, such as breathlessness, dizziness, headaches, and abdominal pain. In this disease, the hemoglobin β chain has a single amino acid substitution, causing a change in both the structure (shape) and function (job) of the protein. What is most remarkable to consider is that a hemoglobin molecule is made up of about 600 amino acids. The structural difference between a normal hemoglobin molecule and a sickle cell molecule is a single amino acid of the 600.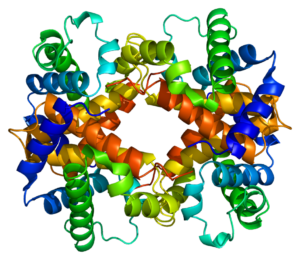 References
Unless otherwise noted, images on this page are licensed under CC-BY 4.0 by OpenStax.
OpenStax, Biology. OpenStax CNX. May 27, 2016 http://cnx.org/contents/s8Hh0oOc@9.10:QhGQhr4x@6/Biological-Molecules