Book Title:

Oregon Writes Open Writing Text

Subtitle: A Project of Oregon Writes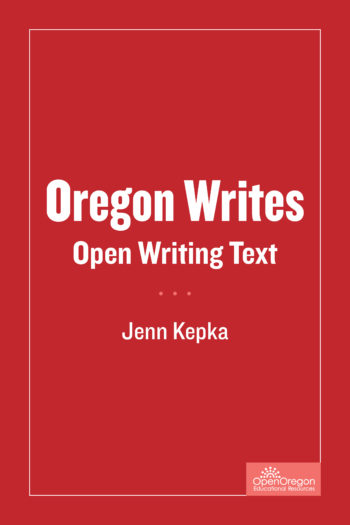 Book Description: This textbook guides students through rhetorical and assignment analysis, the writing process, researching, citing, rhetorical modes, and critical reading. Guided by Oregon's statewide college writing outcomes, this book collects previously published articles, essays, and chapters released under Creative Commons licenses into one free textbook available for online access or print-on-demand. Faculty guide available: https://canvas.instructure.com/courses/1035227Order a print copy: http://www.lulu.com/shop/jenn-kepka/oregon-writes-open-writing-text/paperback/product-23840147.html
License:
Creative Commons Attribution
Book Information
Book Description
This textbook guides students through rhetorical and assignment analysis, the writing process, researching, citing, rhetorical modes, and critical reading. Using accessible but rigorous readings by professionals throughout the college composition field, the Oregon Writes Writing Textbook aligns directly to the statewide writing outcomes for English Composition courses in Oregon.
Created through a grant from Open Oregon in 2015-16, this book collects previously published articles, essays, and chapters released under Creative Commons licenses into one free textbook available for online access or print-on-demand.
License
Oregon Writes Open Writing Text by Jenn Kepka is licensed under a Creative Commons Attribution 4.0 International License, except where otherwise noted.