OBJECTLINE
HIDDEN LINE
SECTION LINE
CENTER LINE
DIMENSION LINE
EXTENSION LINE
LEADER LINE
CUTTING PLANE LINE
BREAK LINES
PHANTOM LINES
BORDER LINE
You have heard the saying, "A picture is worth a thousand words". This statement is particularly true in regards to technical drawings.
It would be almost impossible for an engineer, designer, or architect to describe in words the shape, size, and relationship of a complex object. Therefore, drawings have become the universal language used by engineers, designers, technicians, as well as craftsmen, to communicate the Information necessary to build, assemble and service the products of industry.
It is Important to remember, as you study Print Reading, that you are learning to communicate with the graphic language used by Industry: Lines are part of that language.
Since technical drawings are made of lines, it is logical that the first step in learning to "read" a drawing is to learn the meaning of each kind of line. Generally, there are 11 basic types of lines. Each kind of line has a definite form and "weight". Weight refers to line thickness or width. When combined in a drawing, lines provide part of the Information needed to understand the print.
Being able to interpret a blueprint and accurately build objects is a needed skill to become successful in all trade crafts.  It is a skill, like many others you will learn, and it will take time and practice to fully understand and become proficient.
Object Line
A visible line, or object line is a thick continuous line, used to outline the visible edges or contours of an object.

Hidden Line
A hidden line, also known as a hidden object line is a medium weight line, made of short dashes about 1/8" long with 1/16"gaps, to show edges, surfaces and corners which cannot be seen. Sometimes they are used to make a drawing easier to understand. Often they are omitted in an isometric view.

Section Line
Section lines are used to show the cut surfaces of an object in section views. They are fine, dark lines. Various types of section lines may indicate the type of material cut by the cutting plane line.

Center Line
Center lines are used to indicate the centers of holes, arcs, and symmetrical objects. They are very thin (size), long-short-long kinds of lines.

Dimension Line
Dimension lines are thin and are used to show the actual size of an object. There are arrowheads at both end that terminate at the extension lines.

Extension Line
Extension lines are also thin lines, showing the limits of dimensions. Dimension line arrowheads touch extension lines.

Leader Line
Leaders are more thin lines used to point to an area of a drawing requiring a note for explanation. They are preferably drawn at a 45° angles.

Cutting Plane Line
A cutting plane line (very heavy) helps to show the internal shape at a part or assembly by slicing through the object.

Break Line
There are three kinds of break lines used in drawings. They are used to remove, or 'break out" part of a drawing for clarity, and also to shorten objects which have the same shape throughout their length and may be too long to place on the drawing.

Short and long break lines are used for flat surfaces. Cylindrical are used on rods, dowels, etc.
Phantom Line
Phantom lines are long-short-short-long lines most often used to show the travel or movement of an object or a part in alternate positions. It can also be used to show adjacent objects or features.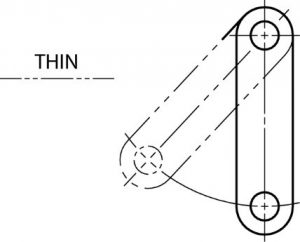 Border Line
Borderlines are very thick, continuous lines used to show the boundary of the drawing or to separate different objects drawn on one sheet. They are also used to separate the title block form the rest of the drawing.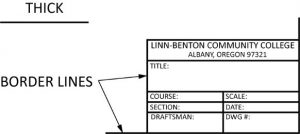 Quiz….
Directions: Name the types of lines shown below. Check your own answers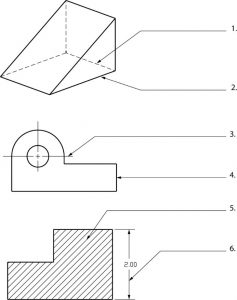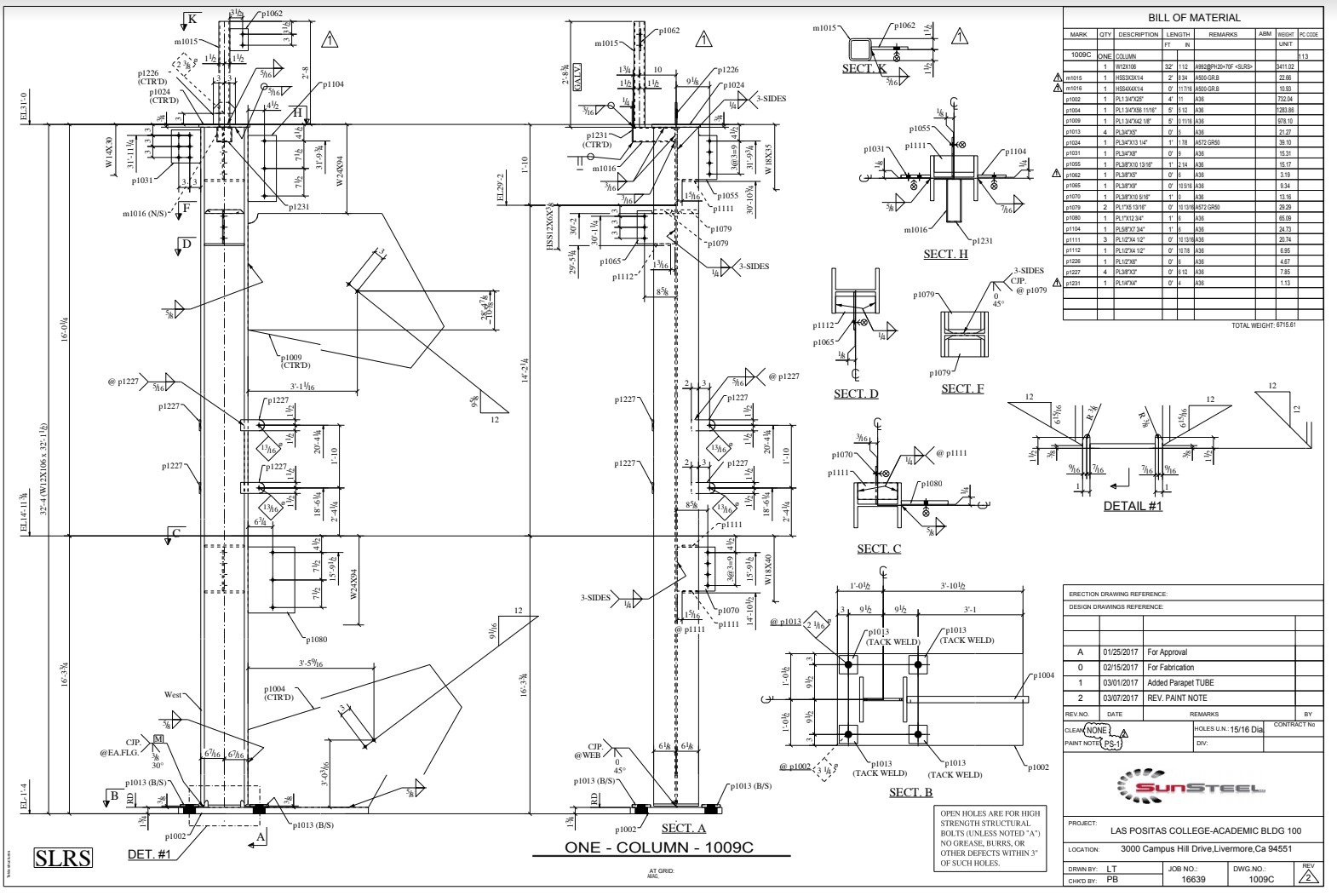 Identify the various line types used in this drawing. (instructor will provide a copy of this drawing)
Name the types of lines shown below. Check your own answers.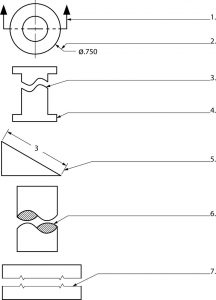 Directions: Draw and identify the lines needed to complete the figures as indicated.