4

Chapter 4: Respiratory System

sheryllehi
The basic purpose of the Respiratory System is to deliver oxygen to the body and remove the waste product, carbon dioxide. This process regulates the pH levels of the blood.
The primary organs of the Respiratory System are the lungs which are supported in this process by the upper and lower airways, as well as the Cardiovascular System and diaphragm.
Upper Airway
The upper airway is responsible for both the beginning and ending of the gas exchange process. Oxygen enters the body through a process called inhalation (breathing in) and carbon dioxide exits the body through exhalation (breathing out). This process is also called internal respiration (breathing in) and external respiration (breathing out) and inspiration (breathing in) and expiration (breathing out).
The upper airways consists of the nose, mouth, sinuses, and pharynx. Although not directly related to the Respiratory System, an important accessory structure is the epiglottis. Each of these structures play an important role.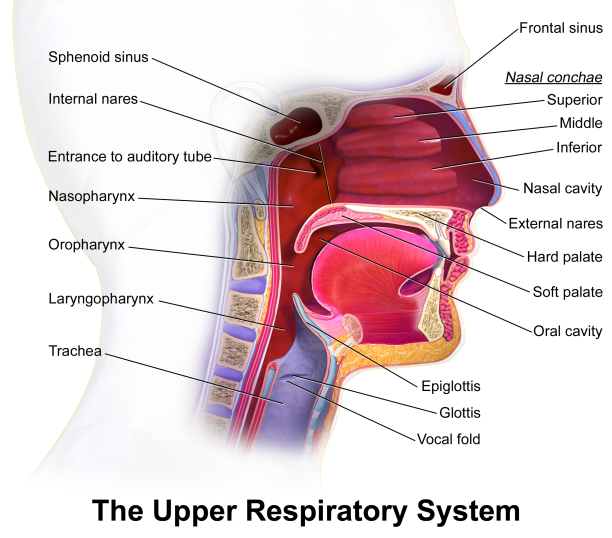 Image: "File:Blausen 0872 UpperRespiratorySystem.png" by BruceBlaus. When using this image in external sources it can be cited as: Blausen.com staff (2014). 'Medical gallery of Blausen Medical 2014′. WikiJournal of Medicine 1 (2). DOI:10.15347/wjm/2014.010. ISSN 2002-4436. is licensed under CC BY 3.0
Nose
The nose is the uppermost structure of the Respiratory System. When you breathe in through your nose, the small hairs in your nostrils help filter the air, which is further filtered by tiny hairs called cilia located along the air passage.
Mouth
The mouth is a secondary structure for inhaling oxygen. When you breathe in through your mouth, the air travels down the back of your throat and into your pharynx.
Sinuses
Sinuses are small, hollow spaces connected to the nasal cavity. They help regulate the temperature and humidity of the air during inspiration.
Pharynx
The primary function of the pharynx is to move the inhaled air from the upper airway to the lower airway.
Epiglottis
The epiglottis is located just above the larynx and covers the larynx during eating or swallowing so food and liquids do not enter the respiratory airway.
Lower Respiratory System
The lower Respiratory System is where the real work is performed. The primary structures of the lower Respiratory System include the lungs and bronchi. Although not directly related to the Lower Respiratory System, the diaphragm also plays an important role. However, as you will learn, the real heroes of this system are the tiny alveoli.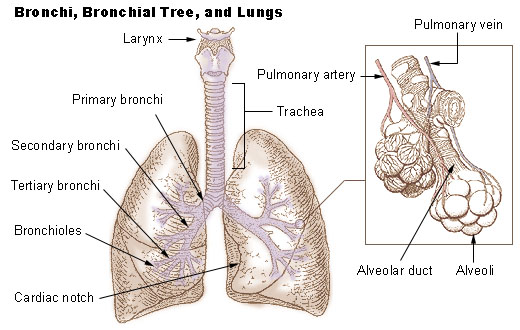 Image: http://training.seer.cancer.gov/module_anatomy/images/illu_bronchi_lungs.jpg from http://training.seer.cancer.gov/anatomy/respiratory/passages/bronchi.html
Lungs
There are two lungs, each divided into sections called lobes. The right lung contains three lobes and the left lung contains two.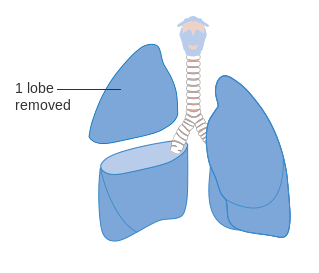 Image: "File:Diagram showing the removal of one lobe of the lung (lobectomy) CRUK 366.svg" by Cancer Research UK is licensed under CC BY-SA 4.0
As shown in the diagram above, part of a lobe, or an entire lobe may be removed and still maintain life.
Each lung contains a network of bronchi, bronchioles, alveoli, and pulmonary capillaries to facilitate gas exchange.
Bronchi
From the trachea, the bronchi divide into two branches: right and left. The inner walls of the bronchi contain mucous membrane and cilia. The mucous membrane traps any foreign particles and the cilia move the particles back up toward the pharynx.
Each bronchus continues to divide into smaller and smaller branches until they become bronchioles. Alveoli are located at the ends of each bronchiole.
Alveoli
Alveoli are tiny air sacs that resemble balloons with thin (one cell) tissue membranes that allow gas exchange. They expand and contract with inhalation and expiration. Located next to the alveoli are pulmonary capillaries which work with the alveoli to complete the gas exchange.
Diaphragm
The diaphragm is located below your heart and lungs, dividing the abdomen from the chest. It is a large, dome-shaped muscle that when contracted creates a vacuum which serves to pull air into the lungs and when relaxed, forces air back out of the lungs. Try taking a couple of deep breaths and notice how the diaphragm contracts and relaxes.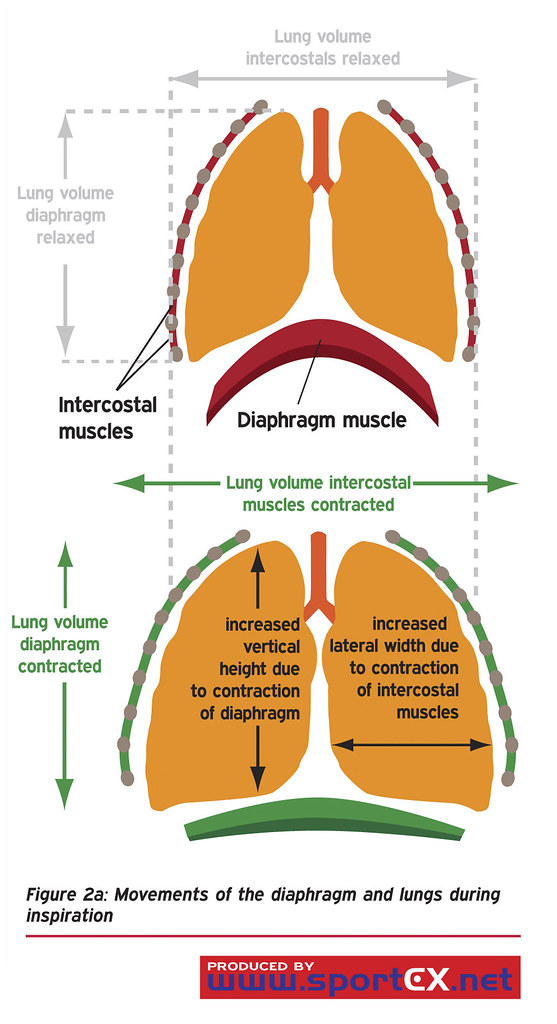 Image: "Movements of the diaphragm and lungs during inspiration" by sportEX journals is licensed under CC BY-ND 2.0
Interesting Fact
Did you know that when you try holding your breath for a long period of time, it is not the lack of oxygen that triggers your need to breathe? It is actually the build-up of CO2 which causes an imbalance in blood pH, making it more acidic. To be healthy, our blood needs to be slightly alkaline, between 7.35 and 7.45 on the pH scale.
Combining Forms
The following table includes combining forms related to the Respiratory System. It is not inclusive but does contain a fairly comprehensive list. This list also includes some related combining forms not specifically connected to the Respiratory System.
Combining Form

Pronunciation

Meaning

Example

adenoid/o

ăd-ĕ-noyd-ō

adenoid

adenoiditis (inflammation of the adenoid tissue)

aer/o

ĕr-ō

air, gas

aerometer (an instrument used to measure gas density)

alveol/i

alveol/o

ăl-vē-ōl-ī

ăl-vē-ōl-ō

alviole

alveolitis (inflammation of the alveoli)

anthrac/o

ăn-thrăk-ō

coal dust

anthracosis (accumulation of carbon deposits in the lungs due to inhalation of smoke or coal dust)

bronch/o

bronchi/o

brŏng-kō

brŏng-kī-ō

bronchus, airway

bronchodilation (expansion or relaxation of the large airway)

bronchiostenosis (narrowing of the bronchial tubes)

bronchiol/o

brŏng-kī-ō-lō

bronchiole

bronchiolectasis (dilatation of the bronchioles)

carcin/o

kăr-sĭn-ō

cancer

carcinogenic (producing cancer)

chrondr/o

kŏn-drō

cartilage

chondrolysis (breaking down and absorbing cartilage)

coni/o

kō-nē-ō

dust

coniosis (any condition caused by inhalation of dust)

diaphragmat/o

dī-ă-frăg-măt-ō

diaphragm

diaphragmatocele (hernia of the diaphragm)

epiglott/o

ĕp-ĭ-glŏt-ō

epiglottis

epiglottitis (inflammation of the epiglottis)

laryng/o

lăr-ĭn-gō

larynx

laryngalgia (pain in the larynx)

lob/o

lō-bō

lobe

lobotomy (incision into a lobe)

muc/o

mū-kō

mucus

mucokinesis (therapeutic technique that removes excessive or abnormal secretions from the respiratory tract)

nas/o

rhin/o

nā-zō

rī-nō

nose

nasendoscope (a small, angled endoscope inserted into a nostril used to visualize the nose, sinuses, pharynx, and larynx)

rhinomycosis (fungi in the mucous membranes of the nose)

or/o

ōr-ō

mouth

oronasal (pertaining to the mouth and nose)

orth/o

ōrth-ō

straight

orthopnea (labored breathing that occurs when lying flat but is relieved by sitting up)

ox/i

ox/o

ŏk-sē

ŏk-sō

oxygen

oximetry (measurement of the oxygen saturation of hemoglobin in blood)

hypoxemia (deficient oxygen blood levels)

pect/o

steth/o

thorac/o

pĕk-tō

stĕth-ō

thŏ-răk-ō

chest

pectoralgia (pain in the chest)

stethogram (record of heart sounds)

thoracocentesis (inserting a needed through the chest wall and into the pleural space)

pharyng/o

făr-ĭn-gō

throat, pharynx

pharyngocele (hernia through the pharyngeal wall)

phon/o

fō-nō

voice, sound

phonogram (a graphic curve indicating the intensity and duration of a sound)

phren/o

frĕn-ō

mind, diaphragm

phrenoptosis (downward displacement of the diaphragm)

pleur/o

ploo-rō

pleura, side, rib

pleuritis (inflammation of the pleura; also known as pleurisy)

pnea

pneo

spir/o

nē-uh

nē-ō

spī-rō

breath, breathing, respiration

apnea (temporary cessation of breathing)

spirometer (an instrument used to measure respiratory gases)

pneum/o

pneumon/o

nū-mō

nū-mō-nō

lung, air

pneumectomy (excision of all or part of the lung)

pneumonoconiosis (disease of the respiratory tract due to inhalation of dust particles)

pulmon/o

pŭl-mō-nō

lung

pulmonary (pertaining to the lungs)

py/o

pī-ō

pus

pyocyanic (pertaining to blue pus)

sept/o

sĕp-tō

septum

septonasal (pertaining to the nasal septum)

sinus/o

sī-nŭs-ō

sinus

sinusoid (resembling a sinus)

son/o

sō-nō

sound

sonogram (the record obtained by use of ultrasonography)

stomat/o

stō-mă-tō

mouth, mouthlike opening

stomatodynia (pain in the mouth)

*tonsill/o

tŏn-sĭ-lō

tonsil

tonsillitis (inflammation of a tonsil)

trache/o

trā-kē-ō

Trachea, windpipe

tracheophony (the sound heard over the trachea in auscultation)
*Note: tonsill/o is not misspelled; the combining form has two ls and the word, tonsil, has only one l.
Abbreviations
The following is a list of abbreviations related to the Respiratory System, but is not intended to be all-inclusive.
| | | | | |
| --- | --- | --- | --- | --- |
| Abbreviation | Meaning | | Abbreviation | Meaning |
| ABG | Arterial blood gas | | MDRTB | Multidrug-resistant tuberculosis |
| A&P | Auscultation and percussion | | NMT | Nebulized mist treatment |
| AFB | Acid-fast bacilli | | O2 | Oxygen |
| AP | Anterior posterior (used with x-ray views) | | OSA | Obstructive sleep apnea |
| ARDS | Acute respiratory distress syndrome | | PA | Posterior anterior (used with x-ray views) |
| ARF | Acute respiratory failure | | PAP | Positive airway pressure |
| BiPAP | Bilevel positive airway pressure | | PE | Pulmonary embolism |
| CF | Cystic fibrosis | | PFT | Pulmonary function test |
| CO2 | Carbon dioxide | | pH | Potential of hydrogen(degree of acidity or alkalinity |
| COLD | Chronic obstructive lung disease | | PND | Paroxysmal nocturnal dyspnea |
| COPD | Chronic obstructive pulmonary disease | | PPD | Purified protein derivative |
| CPAP | Continuous positive airway pressure | | R | respiration |
| CPR | Cardiopulmonary resuscitation | | RA | Room air |
| CPT | Chest physiotherapy | | RAD | Reactive airway disease |
| CT | Computed tomography | | RDS | Respiratory distress syndrome |
| CTA | Clear to auscultation | | RML | Right middle lobe (of lung) |
| CTPA | Computed tomography pulmonary angiography | | RUL | Right upper lobe (of lung) |
| CWP | Coal worker's pneumoconiosis | | SARS | Severe acute respiratory syndrome |
| CXR | Chest x-ray | | SIDS | Sudden infant death syndrome |
| DOE | Dyspnea on exertion | | SOB | Shortness of breath |
| DNR | Do not resuscitate | | SOBOE | Shortness of breath on exertion |
| ENT | Ears, nose, throat | | stat | Immediately |
| HHN | Handheld nebulizer | | T&A | Tonsillectomy and adenoidectomy |
| IRDS | Infant respiratory distress syndrome | | TB | Tuberculosis |
| IPPB | Intermittent positive pressure breathing | | TLC | Total lung capacity |
| IS | Incentive spirometry | | URI | Upper respiratory infection |
| LLL | Left lower lobe (of lung) | | VC | Vital capacity |
| LUL | Left upper lobe (of lung) | | VT | Tidal volume |
| MDI | Metered dose inhaler | | | |
| | | | | |
Common Tests and Procedures
The following is a list of common tests and procedures relating to the Respiratory System, but is not intended to be all-inclusive.
| | |
| --- | --- |
| Test/procedure | Explanation |
| Arterial blood gases (ABG) | Measurement of the O2 and CO2 levels and the pH balance in arterial blood (blood drawn from an artery rather than a vein) |
| Bronchoscopy | Visual examination of the bronchi using an endoscope inserted through the mouth and trachea |
| Chest physiotherapy | Manually percussing the chest wall to help clear the lungs of mucus |
| Chest x-ray (CXR) | Radiographic image of the lungs |
| Computed tomography (CT) | Computerized imaging procedure that creates detailed images of the internal organs, bones, soft tissues, and blood vessels |
| Computed tomography pulmonary angiography (CTPA) | Combines computed tomography scanning and angiography to produce detailed images of the pulmonary arteries |
| Mantoux test | Tuberculosis screening test in which an injection of tuberculin purified protein derivative (PPD) is placed just below the surface of the skin; used to help identify whether a patient has been exposed to tuberculosis. |
| Metered dose inhaler (MDI) | Handheld device filled with medicine that delivers a certain amount of medicine through your mouth into your lungs and airways |
| Nebulizer | Device that produces a fine spray or mist to deliver medication to the lungs and airways |
| Oximetry | Noninvasive method of monitoring the percentage of hemoglobin saturated with oxygen; often attached to a finger but may also be attached to other parts of the body such as nose, foot, ears. |
| Pleurodesis | Infusion of a sterile, irritating substance into the pleural space, causing the pleural linings to fuse so fluid or air can no longer build up between the two layers of pleura. |
| Postural drainage | The use of gravity to drain mucus from the lungs by placing patients in various positions – often performed with chest physiotherapy |
| Pulmonary angiography | Radiographic examination of the blood vessels that supply the lungs after injecting a contrast dye; used to detect pulmonary emboli (blood clots) |
| Pulmonary function test (PFT) | Various tests that measures how well your lungs are working; may include tests such as arterial blood gases, spirometry, oximetry, and lung volume tests. |
| Sputum analysis | Laboratory examination of mucus or fluid coughed up from the lungs |
| Sweat test | Measurement of the amount of salt (sodium chloride) in sweat |
| Thoracentesis | Surgical puncture of the chest wall to remove fluid from the space between the lungs and the chest wall |
| Vital capacity test | Measurement of the volume of air that can be exhaled after maximum inspiration |
| | |
Common Pathology Terms
Naturally, there are many types of diseases and conditions related to the Respiratory System – far too many to list in this text. However, the following list includes some of the most common.
Disease/condition

Description

Acute respiratory distress syndrome (ARDS)

Rapid onset respiratory failure resulting from fluid build-up in the lungs. Most commonly occurs in people who are already critically ill or those with significant injuries (https://www.mayoclinic.org/diseases-conditions/ards/symptoms-causes/syc-20355576)

Asbestosis

Chronic lung disease caused from the inhalation of asbestos fibers, causing scarring of the lung tissues. Prolonged exposure may lead to the development of lung cancer.

Asphyxia

Insufficient intake of oxygen due to choking, electric shock, exposure to toxic gas, or other causes. Potentially life-threatening.

Asthma

Airway disorder in which the airways narrow, making breathing difficult, causing wheezing and shortness of breath. May also produce extra mucus.

Atelectasis

Inability of the alveoli to inflate properly, impairing the ability to deliver oxygen to the body (also known as a collapsed lung). Often develops after surgery.

Bronchitis

Acute or chronic inflammation of the bronchial airways.

Chronic obstructive pulmonary disease (COPD)

A group of diseases, such as emphysema causing blockage of the airways and severe shortness of breath. Common symptoms include frequent coughing or wheezing, shortness of breath, excess phlegm or sputum, and difficulty taking a deep breath (https://www.cdc.gov/copd/features/copd-symptoms-diagnosis-treatment.html?CDC_AA_refVal=https%3A%2F%2Fwww.cdc.gov%2Ffeatures%2Fcopd-awareness-month%2Findex.html).

Image by:  http://www.nhlbi.nih.gov/health/public/lung/copd/campaign-materials/html/copd-patient.htm

Coryza

Acute inflammation of the mucous membranes of the nasal passages. Also known as the common cold or rhinitis.

Crackles

Cracking or bubbling sound heard during inspiration. One of several abnormal lung sounds heard with a stethoscope.

Croup

Acute respiratory condition occurring primarily in young children and infants, characterized by a barking cough.

Cystic fibrosis (CF)

Genetic disease primarily affecting the lungs and digestive system. It causes excessive production of mucus. (https://www.cff.org/What-is-CF/Diagnosed-With-Cystic-Fibrosis/)

Deviated nasal septum

Displacement of the cartilage which divides the nostrils and can cause difficulty breathing, sinus infections, and nosebleeds.

Emphysema

One of the diseases in the COPD group caused by damaged or ruptured alveoli, resulting in shortness of breath.

Image by: "Emphysema, centrilobular" by Pulmonary Pathology is licensed under CC BY-SA 2.0

Epistaxis

Bleeding from the nose (aka nosebleed)

Hemoptysis

Spitting up of blood from the lungs or respiratory tract

Hemothorax

Collection of blood in the pleural cavity.

Influenza

Contagious, acute viral respiratory illness, causing fever, chills, headache, and muscle aches. Also called the flu.

Laryngitis

Inflammation of the larynx, causing hoarseness or loss of the voice.

Lung cancer

Several types of cancer that starts in the lungs, typically in the cells lining the bronchi, bronchioles, or alveoli. There are two basic types: 1) non-small cell lung cancer (NSCLC) such as adenocarcinoma and squamous cell carcinoma; and 2) small cell lung cancer (SCLC).

Image by: https://www.myupchar.com/en/disease/lung-cancer

Orthopnea

Difficulty breathing in a horizontal position that improves when sitting up.

Pertussis

Acute infectious disease, characterized by a cough that makes a "whoop" sound. Also called whooping cough.

Pharyngitis

Inflammation of the pharynx. Also called sore throat.

Pleural effusion

Collection of fluid in the pleural cavity.

Image by: Cancer Research UK / CC BY-SA (https://creativecommons.org/licenses/by-sa/4.0)

Pleurisy

Inflammation of the pleural membrane causing sharp pain upon inspiration

Pneumonia

Lung infection caused by a bacteria, virus, or fungi. Bacterial and viral pneumonia are contagious.

Pneumothorax

Complete or partial collapse of a lung that occurs when air leaks into the pleural cavity and pushes on the lung, causing it to collapse.

Image by: "Pneumothorax 2" by Servier Medical Art is licensed under CC BY 2.0

Pulmonary edema

Accumulation of fluid in lung tissues and alveoli, often caused by heart failure.

Pulmonary embolism

Blockage of an artery in the lungs caused by blood clots or other debris. Symptoms include shortness of breath, chest pain, and cough that produces blood or blood streaks.

Image by: "Pulmonary embolism" by Thrombosis Adviser is licensed under CC BY-NC-ND 2.0

Ronchi

Coarse, gurgling sound when breathing. One of several abnormal lung sounds heard with a stethoscope.

Sleep apnea

Potentially serious disorder causing patients to stop breathing repeatedly during sleep.

Stridor

High-pitched sound caused by a spasm, swelling of the larynx, or an upper airway obstruction. Audible without a stethoscope. May indicate a life-threatening condition.

Sudden infant death syndrome (SIDS)

Unexpected, unexplained death of an infant (under one year of age). Also called crib death.

Tuberculosis

Potentially life-threatening, contagious bacterial infection primarily affecting the lungs but may spread to other organs. Spread through respiratory droplets.

Image: ps://www.myupchar.com/ – https://www.myupchar.com/en/disease/tuberculosis-tb

Upper respiratory infection (URI)

Contagious infection of the upper respiratory tract (nose, throat, pharynx, larynx, and bronchi) usually caused by a virus.

Wheeze

Whistling sound caused by partial airway obstruction. One of several abnormal lung sounds. May be heard with or without a stethoscope.
Your turn
Activity 1
To assist in your learning, break the following medical terms into their word elements and define the medical term based on the meaning of each word part. Then, using a medical dictionary of your choice, compare the word part definition to the dictionary definition.
Bronchoplasty
Lobectomy
Thoracentesis
Laryngoscopy
Oximeter
Dyspnea
Pleurodynia
Pulmonary
Tonsillitis
Tracheostomy
Activity 2
Create medical terms to match the following definitions.
Slow breathing
Softening of the larynx
Pertaining to the pharynx
Hernia of the lung (tissue)
Surgical repair of the nose
Incision of a sinus
Tumor of a cartilage
Condition of no oxygen
Stopping (the secretion of) mucus
Inflammation of the epiglottis
Activity 1 Answers
Your dictionary definition will vary depending on the one you used, but the word parts are defined as follows:
bronch/o + -plasty (surgical repair of a bronchus)
lob/o + -ectomy (surgical excision of a lobe)
thorac/o + -centesis (surgical puncture of the chest cavity)
laryng/o + -scopy (visual examination of the larynx)
ox/i + -meter (measuring instrument for oxygen)
dys- + pnea (breathing difficulty)
pleur/o + -dynia (pain of the pleura)
pulmon/o + -ary (pertaining to the lung)
tonsill/o + -itis (inflammation of the tonsil)
trache/o + -ostomy (mouthlike opening into the trachea)
Activity 2 Answers
Although several of the definitions have multiple combining forms and/or suffixes that mean the same thing, the answers below reflect the most common version of the term.
bradypnea
laryngomalacia
pharyngeal
pneumatocele
rhinoplasty
sinusotomy
chondroma
anoxia
mucostatic
epiglottitis