Book Title:

The Word on College Reading and Writing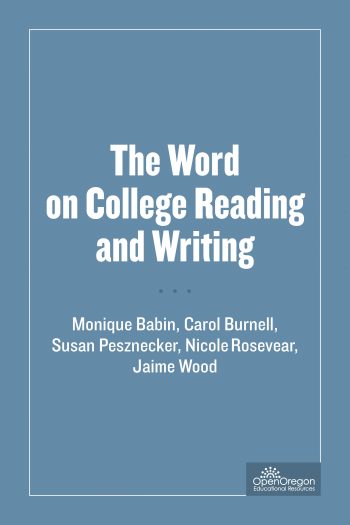 Book Description: An interactive, multimedia text that introduces students to reading and writing at the college level. Order a print copy: http://www.lulu.com/content/paperback-book/the-word-on-college-reading-and-writing/23481664
License:
Creative Commons Attribution NonCommercial
Book Information
Book Description
Written by five college reading and writing instructors, this interactive, multimedia text draws from decades of experience teaching students who are entering the college reading and writing environment for the first time. It includes examples, exercises, and definitions for just about every reading- and writing-related topic students will encounter in their college courses.
Order a print copy: http://www.lulu.com/content/paperback-book/the-word-on-college-reading-and-writing/23481664
License
The Word on College Reading and Writing Copyright © by Carol Burnell, Jaime Wood, Monique Babin, Susan Pesznecker, and Nicole Rosevear is licensed under a Creative Commons Attribution-NonCommercial 4.0 International License, except where otherwise noted.
Subject
Writing and editing guides