If you were to remove all the organelles from a cell, would the plasma membrane and the cytoplasm be the only components left? No. Within the cytoplasm, there would still be ions and organic molecules, plus a network of protein fibers known as the cytoskeleton.
Both prokaryotes and eukaryotes have a cytoskeleton. Both types of organisms use their cytoskeleton for cell division, protection, and shape determination.
In addition, in eukaryotes the cytoskeleton also functions to secure certain organelles in specific positions, and to allow cytoplasm and vesicles to move within the cell. It also enables unicellular organisms to move independently. There are three types of fibers within the cytoskeleton: microfilaments, also known as actin filaments, intermediate filaments, and microtubules (Figure 1).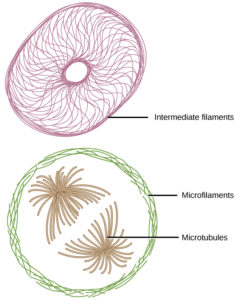 The centrosome replicates itself before a cell divides, and the centrioles play a role in pulling the duplicated chromosomes to opposite ends of the dividing cell. However, the exact function of the centrioles in cell division is not clear, since cells that have the centrioles removed can still divide, and plant cells, which lack centrioles, are capable of cell division.
References
Unless otherwise noted, images on this page are licensed under CC-BY 4.0 by OpenStax.
Text adapted from: OpenStax, Concepts of Biology. OpenStax CNX. May 18, 2016 http://cnx.org/contents/b3c1e1d2-839c-42b0-a314-e119a8aafbdd@9.10