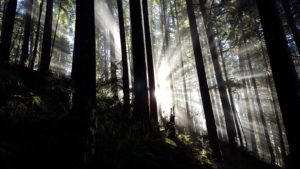 Environmental Biology  is a free and open textbook that enables students to develop a nuanced understanding of today's most pressing environmental issues. This text helps students grasp the scientific foundation of environmental topics so they can better understand the world around them and their impact upon it.  This book is a collaboration between various authors and organizations that are committed to providing students with high quality and affordable textbooks. Particularly, this text draws from the following open sources, in addition to new content from the editor:
Environmental Biology is licensed under CC BY 4.0 and was edited and co-authored by Matthew R. Fisher, Biology Faculty at Oregon Coast Community College.  If you have questions, suggestions, or found errors in this text, please contact him at matthew.fisher@oregoncoast.edu.
Special Note to Instructors:
Lecture slides for all chapters are available via Environmental Biology Lecture Slides.
Publication and on-going maintenance of this textbook is possible due to grant support from Open Oregon Education Resources. Every time that you use this textbook, please email the editor (matthew.fisher@oregoncoast.edu) and provide the number of courses and students involved. This allows for the impact of this open textbook to be monitored, and hopefully, it justifies continued financial support for it.
Also, please check with the editor prior to adopting this textbook to see if any substantial revisions or additions are pending.
Minor Updates, Spring 2021
Minor edits throughout the textbook related to grammar, clarity, and typos.
Updates to Section 10.2, November 2019
This section was rewritten to improve the quality and depth of the narrative. Some emerging scientific evidence was included about the resurgence in CFC emissions. Most graphics were removed and new images were added.
Major Updates Completed in Summer 2018
Improved formatting of images throughout the text. (Completed)
Chapter 2: Addition of a section regarding the different levels of biological organization, from molecules to ecosystems. (Completed)
Chapter 8: Revise the section about genetically modified organisms to better reflect current science. (Completed)
Chapter 11: Update information about climate change. (Completed)
All chapters: End-of-chapter multiple choice review questions, at different levels of Bloom's taxonomy, with answer key provided in a newly created Appendix. (Completed)
This book was last updated on May 2021.
Photo above taken in the mid-Coastal Mountain range of Oregon, CC BY 4.0 Matthew R. Fisher