Book Title:

Interpretation of Metal Fab Drawings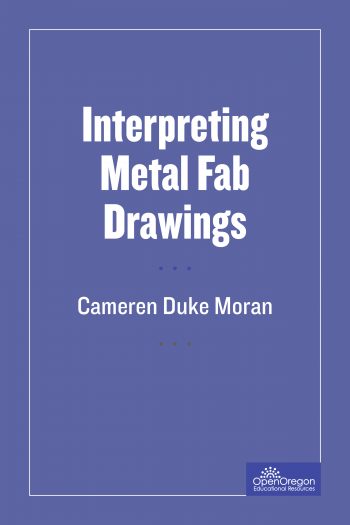 Book Description: Interpreting metal fab drawings is a course that introduces the principles of interpretation and application of industrial fabrication drawings. Basic principles and techniques of metal fabrication are introduced by planning and construction of fixtures used in fabrication from drawings. Basic tools and equipment for layout fitting of welded fabrications are utilized. Covers the use and application of the AWS welding symbols. This course will utilize blueprints and welding symbols and will apply them in classroom and in shop as practical assignments. Order a print copy: https://www.lulu.com/en/us/shop/cameren-moran/interpretation-of-metal-fab-drawings/paperback/product-jjezry.html
License:
Creative Commons Attribution
Book Information
Book Description
Interpreting metal fab drawings is a course that introduces the principles of interpretation and application of industrial fabrication drawings. Basic principles and techniques of metal fabrication are introduced by planning and construction of fixtures used in fabrication from drawings. Basic tools and equipment for layout fitting of welded fabrications are utilized. Covers the use and application of the AWS welding symbols. This course will utilize blueprints and welding symbols and will apply them in classroom and in shop as practical assignments.
Order a print copy: https://www.lulu.com/en/us/shop/cameren-moran/interpretation-of-metal-fab-drawings/paperback/product-jjezry.html
License
Interpretation of Metal Fab Drawings Copyright © 2017 by Cameren Moran is licensed under a Creative Commons Attribution 4.0 International License, except where otherwise noted.
Subject
Engineering graphics and draughting / technical drawing