10.4. Delinquency
Alison S. Burke
Before the creation of the juvenile court, there was no such thing as "delinquency." Youth were convicted of crimes, the same as adults.  Just as the concept of "childhood" is socially constructed, scholars also say that "juvenile delinquency" is likewise socially constructed as a result of social, economic, and religious changes. [1] The juvenile court oversees cases for youth between the ages of 7 and 17. Seven is considered the lower limit of the reaches or protections of the juvenile justice system, while 17 is the upper limit. At 18, youth are considered adults and are tried under the laws of the adult criminal justice system. However, some states have differing upper age limits. For example, in Oregon, the Oregon Youth Authority houses youth until the age of 25.  Other states have similar provisions and although the lower limit is seven years of age, most states do not intervene in cases under nine.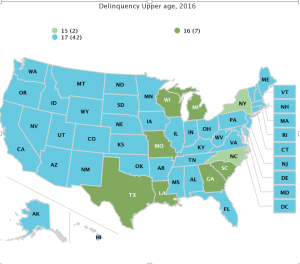 After the creation of the juvenile court, the child savers and reformers were worried that restricting the court to only deal with criminal youth would make the court function like an adult criminal court rather than a rehabilitative parental figure. Within a couple of years of its founding, amendments to the Illinois Juvenile Court Act broadened the definition of delinquency to include incorrigible youth, or otherwise unruly and out of the control of their parents. [2] The definition of juvenile delinquency now included status offenses or offenses that are only illegal because of the age of the offender. Examples include: drinking alcohol, running away, ungovernability, truancy (skipping school), and curfew violations. Overall,  the juvenile justice system is responsible for youth who are considered dependent, neglected, incorrigible, delinquent, and/or status offenders.
The purpose of the original court was to act in a rehabilitative ideal. The main function was to emphasize reform and treatment over punishment and punitive action. [3] Terminology in the court is even different, to denote the separate nature from the adversarial adult processes. To initiate the juvenile court process, a petition is filed "in the welfare of the child," whereas this is called an indictment in the adult criminal process. The proceedings of juvenile courts are referred to as "hearings," instead of trials, as in adult courts. Juvenile courts find youths to be "delinquent," rather than criminal or guilty of an offense, and juvenile delinquents are given a "disposition," instead of a sentence, as in adult criminal courts.
---
Feld, B.C. (1999). Bad Kids: Race and the Transformation of the Juvenile Court. New York: Oxford University Press. ↵
Feld, B.C. (1999). Bad Kids: Race and the Transformation of the Juvenile Court. New York: Oxford University Press. ↵
Feld, B.C. (1999). Bad Kids: Race and the Transformation of the Juvenile Court. New York: Oxford University Press. ↵