8.9. Who Goes to Jail?
David Carter
One of the more fascinating aspects of jails in the United States is who gets placed in them. The short answer is everyone. Whenever someone is arrested, this typically starts their process in the criminal justice system. While it might not be the first time they have been arrested, this action places them en route to a jail. Thus, jails are a collection point for many differing agencies, to include: County Sheriff's Office, Municipal, local, City – Police. State Police may send individuals directly to jail, even Federal agencies may use a local jail as a point of entry. For example, ICE (immigration and customs enforcement) houses many thousands of ICE-holds in jails across the country. Jails hold all kinds of individuals. While this list is not comprehensive, it does present many of the types of people held in jails:
Felons and Misdemeanants
First time and repeat offenders
Those awaiting arraignment or trial
Accused and Convicted
Parolees stepping down from prison
Juveniles pending transfer
Those with mental illness awaiting transfer
Chronic alcoholics and Drug abusers
Those held for the military
Those held for federal agencies
Protective custody
Witnesses
Those in contempt of court
Persons awaiting transfer to state, federal or other local authorities
Temporarily detained persons
As one can see from this list, there are many types of people in the 3,300 plus jails at any given time. In fact, at any given point in time, there are 700,000 plus individuals within jails in the United States. This number has steadily increased since the 1970s. While there have been some decreases in recent years, it generally fluctuates around 725,000 to 750,000 jail inmates. However, this is only one portion of the people in jails. It is estimated that roughly 11 million people process through America's jails annually. Average lengths of stay vary by jurisdiction, but a general average is that a person spends around 25 days in jail. As Wagner and Sawyer (2018) depict in the picture below, the types of people in jail at a point in time is varied. [1]
Snapshot of Individuals in Jail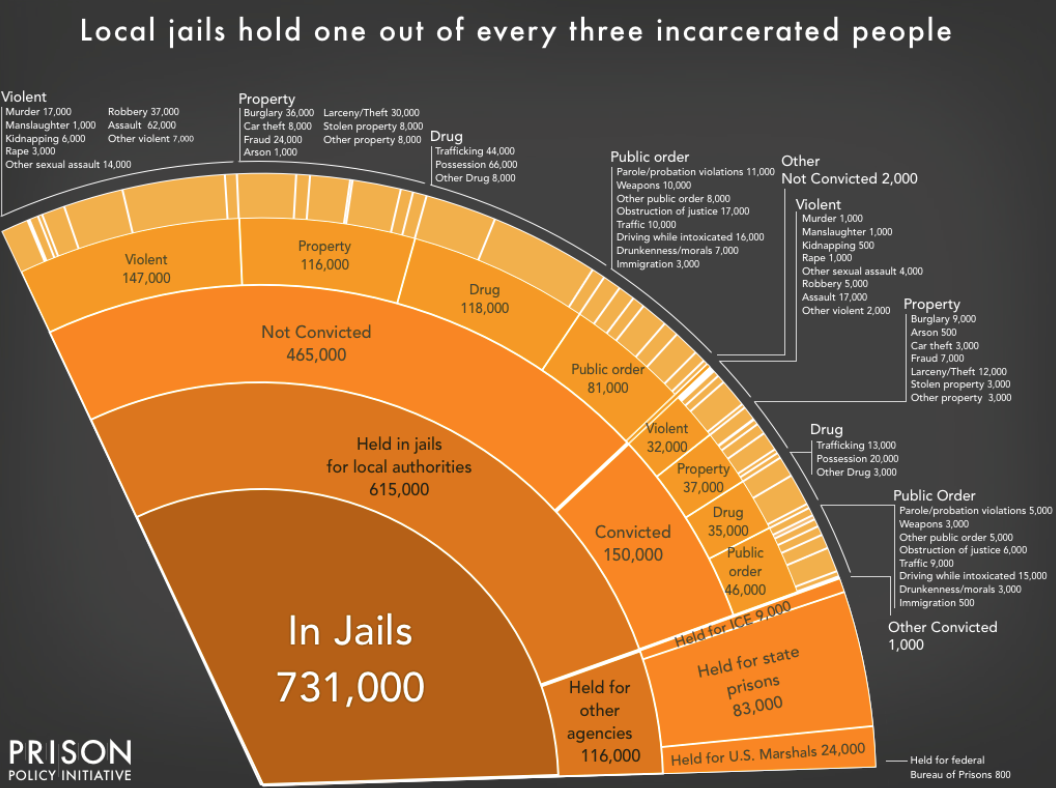 Probably one of the most notable items in the snapshot above is the proportions of individuals that are or are not convicted. Roughly 63% of individuals in jails at any given time are not convicted. Other notable groups are individuals held for other agencies. This could be a matter of processing time or allocations of bed space. In all, it is relatively easy to see the volumes and different types of people that pass through a jail in this graphic. Still, jails only make up one portion of the brick-and-mortar approach to punishment. Prisons are the other large part.
---
Wagner, P., & Sawyer, W. (2018). Mass incarceration: The whole pie 2018. Available at the Prison Policy Organization https://www.prisonpolicy.org/reports/pie2018.html ↵