Increasing sales
Marketing
Updating information
Generating leads
Distributing information
Goals, in any setting, are important to business success. By setting goals for one aspect of the business, in this case, the website, it will help in accomplishing other goals of the business, such as:
Expanding the audience
Connecting other businesses or other parts of the company
General communication
Design Message
The design message is the image the organization wants to portray to the reader. This can also be called the brand. When creating the look of the website you must consider logos, colors, fonts, and images. These must all support the personality of the organization. Note in Figures 3.6.1 and 3.6.2 below how the companies Dropbox and Paypal make use of their brands: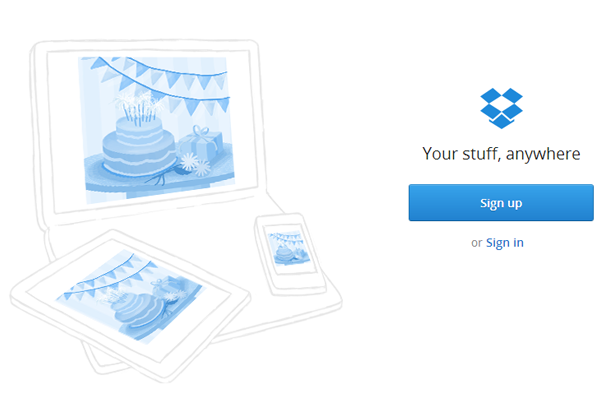 Giving web pages a consistent look will help define it as a cohesive website and make it easier to navigate. Since many companies build their workplaces around the "theme" or "brand," the website should as well. In fact, it is necessary for brand identification, thereby helping the company advance and succeed. A consistent brand and image also help build a company's value and credibility.
Some important points to consider:
The brand, whether communicated through the website or the customer service, must be consistent
The brand should be found everywhere—there are no limits to exposure of brands
Short and simple is almost always the best route
You are the brand and the brand is you. If your brand does not reflect the values and beliefs of the company, it most certainly should not be on your website.
Audience
Like all technical communication, knowing your audience will help you to make better decisions when it comes to deciding how your website should look and function (as well as which browsers to support and which new technologies to endorse). Before designing a new website, it would be helpful to perform an audience needs assessment to ascertain users' demographics, their technical knowledge, as well as browser and device preferences. For example, generally speaking, most younger users prefer to access web content on mobile devices, while some older users may favor accessing content via a traditional computer screen.
It's important to note that putting content on the internet exposes that content to a wider audience, perhaps one beyond your intended audience, so the designer must strive for consistency, clarity, and conciseness.
Purpose
Figuring out how the site will be used in another important step in website design. Most internet users fall into three categories:
those seeking information
those seeking products or services
those seeking entertainment
For the informational sites, you may want to consider the technology of the user and/or use a more general approach to its design. The same can be said for For the sites of those seeking entertainment, more cutting-edge technology can be used to better the experience of the user when they are accessing your site.
As examples, note the differences between these three sites:
Content
There are many ways content can be presented, depending on your audience and purpose, but the following are general tips for designing and formatting your web content:
Chunking: The average reader does not want to read long passages of text on a computer screen. Chunking the information can help break up long  passages of text into shorter and more digestible bits of information that can be read independently from one other.