Book Title:

Body Physics 2.0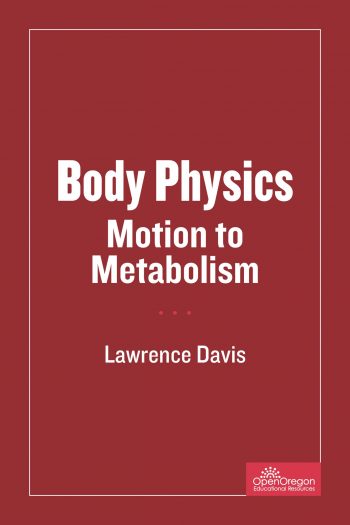 Book Description: Body Physics sticks to the basic functioning of the human body, from motion to metabolism, as a common theme through which fundamental physics topics are introduced. Related practice, reinforcement and Lab activities are included. See the front matter for more details. Additional supplementary material, activities, and information can be found at: https://openoregon.pressbooks.pub/bpsupmat/. Order a print copy: http://www.lulu.com/content/paperback-book/body-physics-motion-to-metabolism/26081318
License:
Creative Commons Attribution NonCommercial ShareAlike
Book Information
Book Description
Body Physics sticks to the basic functioning of the human body, from motion to metabolism, as a common theme through which fundamental physics topics are introduced. Related practice, reinforcement and Lab activities are included. See the front matter for more details. Additional supplementary material, activities, and information can be found at: https://openoregon.pressbooks.pub/bpsupmat/.  Specific topics covered in Body Physics are:  scientific process, units, uncertainty, mass, density, weight, buoyant force, equilibrium, center of gravity, normal force, friction, torque, levers, mechanical advantage, tension, motion, impulse, momentum, the laws of motion, strength and elasticity of materials, work, kinetic and potential energy, power, thermal energy the first law of thermodynamics, efficiency, heat, entropy, and 2nd law of thermodynamics.
License
Body Physics 2.0 Copyright © by Lawrence Davis is licensed under a Creative Commons Attribution-NonCommercial-ShareAlike 4.0 International License, except where otherwise noted.