Flagella (singular = flagellum) are long, hair-like structures that extend from the plasma membrane and are used to move an entire cell, (for example, sperm, Euglena). When present, the cell has just one flagellum or a few flagella. Prokaryotes sometimes have flagella, but they are structurally very different from eukaryotic flagella. Prokaryotes can have more than one flagella. They serve the same function in both prokaryotes and eukaryotes (to move an entire cell).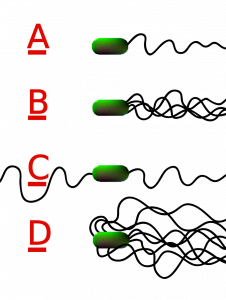 When cilia (singular = cilium) are present, however, they are many in number and extend along the entire surface of the plasma membrane. They are short, hair-like structures that are used to move entire cells (such as paramecium) or move substances along the outer surface of the cell (for example, the cilia of cells lining the fallopian tubes that move the ovum toward the uterus, or cilia lining the cells of the respiratory tract that move particulate matter toward the throat that mucus has trapped). Cilia are not found on prokaryotes.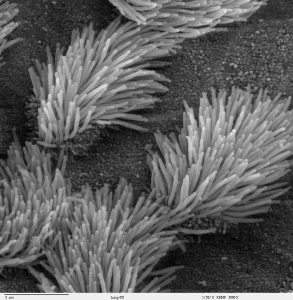 References
Unless otherwise noted, images on this page are licensed under CC-BY 4.0 by OpenStax.
Text adapted from: OpenStax, Concepts of Biology. OpenStax CNX. May 18, 2016 http://cnx.org/contents/b3c1e1d2-839c-42b0-a314-e119a8aafbdd@9.10