Types of signaling molecules
Ligands are produced by signaling cells and act as chemical signals that travel to target cells to coordinate responses. The types of molecules that serve as ligands are incredibly varied and range from small proteins to small ions like calcium (Ca2+).
Small Hydrophobic Ligands
Small hydrophobic ligands can directly diffuse through the plasma membrane and interact with internal receptors. Important members of this class of ligands are the steroid hormones. Steroids are lipids that have a hydrocarbon skeleton with four fused rings; different steroids have different functional groups attached to the carbon skeleton. Steroid hormones include the female sex hormone, estradiol, which is a type of estrogen; the male sex hormone, testosterone; and cholesterol, which is an important structural component of biological membranes and a precursor of steriod hormones (Figure 1). Other hydrophobic hormones include thyroid hormones and vitamin D.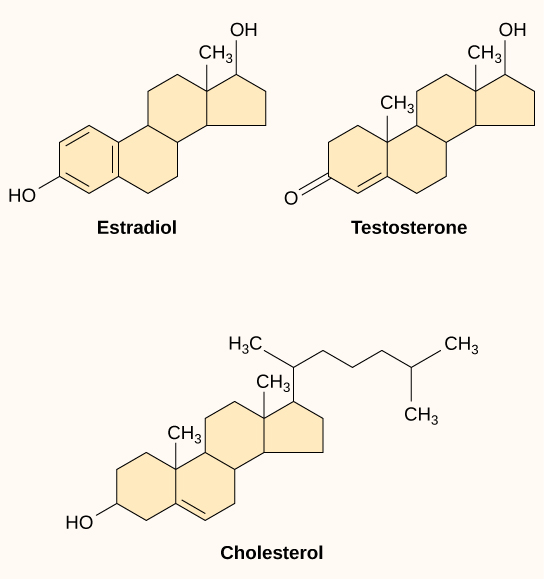 Water-Soluble Ligands
Water-soluble ligands are polar and therefore cannot pass through the plasma membrane unaided; sometimes, they are too large to pass through the membrane at all. Instead, most water-soluble ligands bind to the portion of a cell-surface receptor which is on the outside of the cell. This group of ligands is quite diverse and includes small molecules, peptides (short chains of amino acids), and proteins.
Other Ligands
Nitric oxide (NO) is a gas that also acts as a ligand. It is able to diffuse directly across the plasma membrane, and one of its roles is to interact with receptors in smooth muscle and induce relaxation of the tissue. NO has a very short half-life and therefore only functions over short distances. Nitroglycerin, a treatment for heart disease, acts by triggering the release of NO, which causes blood vessels to dilate (expand), thus restoring blood flow to the heart. NO has become better known recently because the pathway that it affects is targeted by prescription medications for erectile dysfunction, such as Viagra (erection involves dilated blood vessels).
REFERENCES
OpenStax, Biology. OpenStax CNX. October 13, 2017. https://cnx.org/contents/GFy_h8cu@10.118:H4oMpCSi@8/Signaling-Molecules-and-Cellul#footnote1