The first law of thermodynamics states that the total amount of energy in the universe is constant and conserved. In other words, there has always been, and always will be, exactly the same amount of energy in the universe. Energy exists in many different forms. According to the first law of thermodynamics, energy may be transferred from place to place or transformed into different forms, but it cannot be created or destroyed. The transfers and transformations of energy take place around us all the time. Light bulbs transform electrical energy into light and heat energy. Gas stoves transform chemical energy from natural gas into heat energy. Plants perform one of the most biologically useful energy transformations on earth: that of converting the energy of sunlight to chemical energy stored within organic molecules (Figure 2). Some examples of energy transformations are shown in Figure 4.
The challenge for all living organisms is to obtain energy from their surroundings in forms that they can transfer or transform into usable energy to do work. Living cells have evolved to meet this challenge. Chemical energy stored within organic molecules such as sugars and fats is transferred and transformed through a series of cellular chemical reactions into energy within molecules of ATP (adenosine triphosphate). Energy in ATP molecules is easily accessible to do work. Examples of the types of work that cells need to do include building complex molecules, transporting materials, powering the motion of cilia or flagella, and contracting muscle fibers to create movement.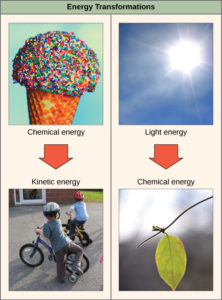 A living cell's primary tasks of obtaining, transforming, and using energy to do work may seem simple. However, the second law of thermodynamics explains why these tasks are harder than they appear. All energy transfers and transformations are never completely efficient. In every energy transfer, some amount of energy is lost in a form that is unusable. In most cases, this form is heat energy. Thermodynamically, heat energy is defined as the energy transferred from one system to another that is not work. For example, when a light bulb is turned on, some of the energy being converted from electrical energy into light energy is lost as heat energy. Likewise, some energy is lost as heat energy during cellular metabolic reactions.
An important concept in physical systems is that of order and disorder. The more energy that is lost by a system to its surroundings, the less ordered and more random the system is. Scientists refer to the measure of randomness or disorder within a system as entropy. High entropy means high disorder and low energy. Molecules and chemical reactions have varying entropy as well. For example, entropy increases as molecules at a high concentration in one place diffuse and spread out. The second law of thermodynamics says that energy will always be lost as heat in energy transfers or transformations. Living things are highly ordered, requiring constant energy input to be maintained in a state of low entropy.
References
Unless otherwise noted, images on this page are licensed under CC-BY 4.0 by OpenStax.
Text adapted from: OpenStax, Concepts of Biology. OpenStax CNX. May 18, 2016 http://cnx.org/contents/b3c1e1d2-839c-42b0-a314-e119a8aafbdd@9.10