Photosynthesis in Prokaryotes
The two parts of photosynthesis—the light-dependent reactions and the Calvin cycle—have been described, as they take place in chloroplasts. However, prokaryotes, such as cyanobacteria, lack membrane-bound organelles (including chloroplasts). Prokaryotic photosynthetic organisms have infoldings of the plasma membrane for chlorophyll attachment and photosynthesis (Figure 1). It is here that organisms like cyanobacteria can carry out photosynthesis.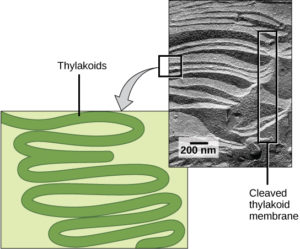 References
Unless otherwise noted, images on this page are licensed under CC-BY 4.0 by OpenStax.
Text adapted from: OpenStax, Concepts of Biology. OpenStax CNX. May 18, 2016 http://cnx.org/contents/b3c1e1d2-839c-42b0-a314-e119a8aafbdd@9.10