Pleiotropy – one gene affects more than one trait
So far, we have discussed examples where changing the DNA sequence of one gene affects one protein, which affects one specific trait (for example, the change from brown to black fur). However, there are examples where one mutation can affect more than one trait. This is called pleiotropy.
MC1R
MC1R, the gene which leads to the difference between yellow and dark colored dogs, is also found in humans. Recall that MC1R helps determine whether mostly eumelanin (dark pigment) or pheomelanin (lighter reddish pigment) will be produced. Humans who produce mostly eumelanin have the active allele of MC1R and have darker skin that tans easily and darker hair. Humans who produce mostly pheomelanin have inactive MC1R proteins and have red or blonde hair and light skin with freckles that does not tan easily.
One relatively obvious secondary phenotype of having lighter skin is that rates of skin cancer are higher in those individuals compared to individuals who have darker skin that tans easily. Since MC1R affects skin pigmentation, it also has an effect on skin cancer rates. In addition, MC1R has an effect on cancer rates that is unrelated to skin pigmentation due to its interactions with other genes that regulate inflammatory responses, DNA repair, and apoptosis (Feller, 2016).
Interestingly, red headed individuals also exhibit higher pain tolerance due to their MC1R alleles (Liem, 2004; Liem, 2006). So far, the reason for this is unknown.
Mutations in MC1R have been shown to decrease knee cartilage in mice (Lorenz, 2014). Again, the mechanism for this is not understood, but likely relates to MC1Rs signaling role.
MC1R polymorphisms have been associated with a decrease in the development of sepsis (blood poisoning) in humans (Seaton, 2017). This is probably due to the role that MC1R plays in inflammation (again, due to its role in signal transduction).
Activation of MC1R by agonists (chemicals that activate receptors) were shown to reduce several harmful symptoms in the kidneys of rats (Lindskog, 2010). The specific reason for this is not understood.
"Frizzled" chickens
The dominant "frizzle" allele causes feathers to turn upwards rather than remain flat against the chicken's body (Figure 1). However, along with producing defective feathers, the frizzle allele also lead to abnormal body temperatures, higher metabolic and blood flow rates, and greater digestive capacity. Furthermore, chickens who had this allele also laid fewer eggs than their wild-type counterparts.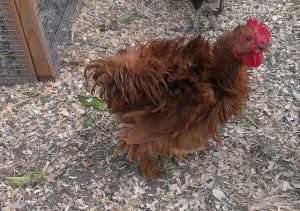 Phenylketonuria
Phenylketonuria (PKU) is a disorder that affects the levels of the amino acid phenylalanine in the body. We get phenylalanine from food, then process it within our cells. Individuals with PKU have a mutation in the enzyme required to break down phenylalanine.  but levels of this amino acid build up in individuals with PKU. This build up can lead to a variety of different symptoms including intellectual disability, seizures, poor bone strength, skin rashes, behavioral and mental disorders, and an unusually small head. If you've ever seen a warning on a package that says "Phenylketonurics – contains phenylalanine", this is why.
References
Feller L, Khammissa RAG, Kramer B, Altini M, Lemmer J. 2016. Basal cell carcinoma, squamous cell carcinoma and melanoma of the head and face. Head Face Med. 12:11.
Liem EB, et. al. 2004. Anesthetic Requirement is Increased in Redheads. Anesthesiology. 101(2): 279-283.
Liem EB, Joiner TV, Tsueda K, Sessler DI. 2006. Increased sensitivity to Thermal Pain and Reduced Subcutaneious Lidocaine Efficacy in Redheads. Anesthesiology. 102(3): 509-514.
Lindskog A, et. al. 2010. Melanocortin 1 Receptor Agonists Reduce Proteinuria. J Am Soc Néphron. 21(8): 1290-1298.
Lorenz J, et. al. 2014. Melanocortin 1 Receptor-Signaling Deficiency Results in an Articular Cartilage Phenotype and Accelerates Pathogenesis of Surgically Induced Murine Osteoarthritis. PLoS One. 9(9): e105858.
Seaton ME, Parent BA, Mood RF, Wurfel MM, Muffley LA, O'Keefe GE, Gibran NS. 2017. MELANOCORTIN-1 RECEPTOR POLYMORPHISMS AND THE RISK OF COMPLICATED SEPSIS AFTER TRAUMA: A CANDIDATE GENE ASSOCIATION STUDY. Shock. 47(1): 79-85.