materials have a small and they begin to fail toward or almost immediately after being stressed beyond their limit. Bone, cast iron, ceramic, and concrete are examples of brittle materials. Materials that have relatively large plastic regions under tensile are known as . Examples of ductile materials include aluminum and copper. The following figure shows how brittle and ductile materials change shape under stress. Even the cartilage that makes up tendons and ligaments is relatively brittle because it  behaves less like example (c) and more like examples (a) and (b). Luckily, those tissues have adapted to allow the deformation required for mobility by, which is the purpose of the toe region of their stress vs. strain curves.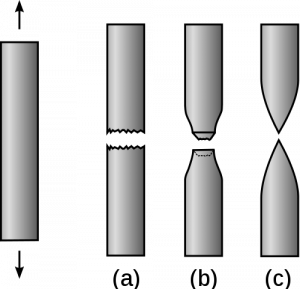 Materials that are very can undergo significant plastic deformation under stress, as apposed to stress. Very malleable materials can be pounded into thin sheets. Gold is the most malleable metal.[1]
---
liable to break or shatter due to relatively inability to deform under stress (not ductile)
the range of values for stress and strain over which a material experiences permanent deformation
the separation of an object or material into two or more pieces under the action of stress and associated strain
the sudden and complete failure of a material under stress
the range of values for stress and strain values over which a material returns to its original shape after deformation
a physical quantity that expresses the internal forces that neighboring particles of material exert on each other
able to be deformed without failure, pliable, not brittle
able to be hammered or pressed permanently out of shape without breaking or cracking
reduction in size caused by application of compressive forces (opposing forces applied inward to the object).
the force that is provided by an object in response to being pulled tight by forces acting from opposite ends, typically in reference to a rope, cable or wire