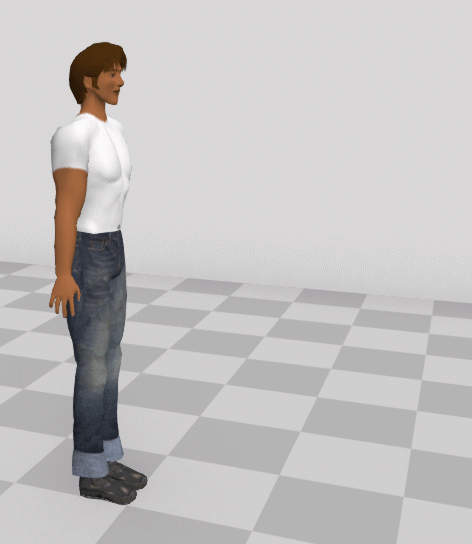 The structures discussed in the previous chapters were resting on the , which was not attached to the support surface (such as your feet and the ground). Therefore only and were available to cancel caused by and maintain . When the support base is attached then can help cancel out gravitational torques and the structure can remain in equilibrium even when the moves outside the area of support. Such structures are known as structures. The animation above shows someone performing the "anti-gravity lean" during which the body is momentarily a cantilevered structure.  The maneuver requires that the heels of the shoes be attached to the ground in order to provide a force. Cantilevered structures can generate especially large and on the materials in the structure. For example the is severely stressed during the anti-gravity lean. When stress becomes too great then may occur. The following unit will apply what we have learned about to determine the size of forces acting on and withing the body when it isn't moving. The unit after that will calculate forces on the body when it is moving.
---
region defined by lines connecting points of contact with the supporting surface
the outward force supplied by an object in response to being compressed from opposite directions, typically in reference to solid objects.
a force that acts on surfaces in opposition to sliding motion between the surfaces
the result of a force applied to an object in such a way that the object would change its rotational speed, except when the torque is balanced by other torques
attraction between two objects due to their mass as described by Newton's Universal Law of Gravitation
a state of having no unbalanced forces or torques
the force that is provided by an object in response to being pulled tight by forces acting from opposite ends, typically in reference to a rope, cable or wire
a point at which the force of gravity on body or system (weight) may be considered to act. In uniform gravity it is the same as the center of mass.
any rigid structure projecting from a support, especially one in which the projection is great in relation to the depth of the structure
a physical quantity that expresses the internal forces that neighboring particles of material exert on each other
the measure of the relative deformation of the material
a tough band of fibrous tissue that connects the calf muscles to the heel bone
the sudden and complete failure of a material under stress
the state being in equilibrium (no unbalanced forces or torques) and also having no motion